Elsa Viva: Another hidden Tuscan gem - 30/10/2017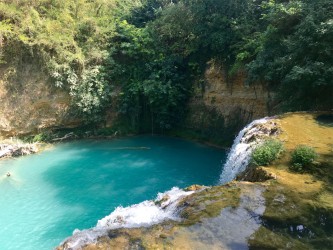 During your stay in Bardeggiano, you can not miss the unique opportunity to spend a few hours in this incredible corner of unspoiled nature. A few kilometers from Colle Val d'Elsa this stretch of the Elsa River, called Elsa Viva ( living Elsa ), offers a truly unforgettable spectacle: a stretch of untouched nature with the turquoise river!
But let's start from the beginning: the river Elsa is about 63 km long and it is born to Sercinelle. The first part of the river is called Elsa Morta (dead Elsa) but do not be frightened, it is called only because its water capacity is poor. Continuing however, Elsa meets other veins, strengthens and gets a color similar to turquoise entering into a natural environment that leaves breathless: a succession of small waterfalls and pools alternating with stretches where the river flows placid and beautiful. Wonderful.
A wonderful excursion
The Colle Val d'Elsa Municipality has created the possibility of an easy 4 km hiking trail that will make your day memorable. The route is called Sentierelsa and begins in Gracciano (5 km from Colle Val D'Elsa) from the bridge of San Marziale and continues to the Spugna bridge.
In the path of this natural wonder you will find uncontaminated nature that will show you small unforgettable gems such as the Tonfo dei Preti, the "Masso Bianco" , the Plan of "Spianata dei Falchi" or the "Gore Rotte".
A nature to respect
This beautiful excursion requires respect of the basic rules of environmental respect so that we all can enjoy its beauty, it is of course highly recommended not to throw any garbage, to be careful to respect this enchanting part of nature and other people.
The silence, broken only by the flow of water will project you into adimension long forgotten in the big cities, once again Tuscany offers us a not well-known jewel that will enrich you and make your stay even more beautiful and intense.
We are waiting for you!